Every time we are experiencing deja vu, when we hear "It is time for a change!", "Security and stability for everyone!", "Our main asset is the man!" For thinking people these slogans have always been on the top list of values. We are continuously striving for them. In our thoughts. And what about reality?
Leave the comfort zone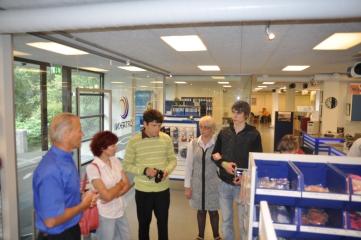 To get to where you've never been, you must go through the path on which you've never gone. /T.S. Eliot/
In order to facilitate changes in life, psychologists recommend leaving the comfort zone. Changes require flexibility, so – to learn something new, do what you have never done. How can a person with disability who is destined to live in diskomfort get out of a comfort zone?
Activists of Ludza Society of Disabled (LSD) are constantly encouraging some changes.They actively develop and implement projects.They have set up a company "SinaVita". A few years ago they proposed the idea which could be put in practise in cooperation with foreign partners. But they were held back by some fears-the fear of the ambition of the project, lots of documentation, lack of competence, language barriers, necessity to fly to another country and so on.Anyway, fears were overcome, and the idea with the name "Work is Life" was supported. Project focus: social entrepreneurship (SE).
At the end of 2013 implementation of the project activities started. It has been a great challenge for the Society, but also a benefit. It is a good practice of foreign partners, the gained experience, valuable training, and opportunity to see and compare how people with disabilities are living in another country. Leaving our comfort zone, we get the joy and energy of daring and practicing new results. It can be said that the LSD literally flew out of their comfort zone! To Iceland, to get the experience.
Prohibition of Self-sufficiency?
The most unpleasant of feelings is the sense of powerlessness. /Carlisle/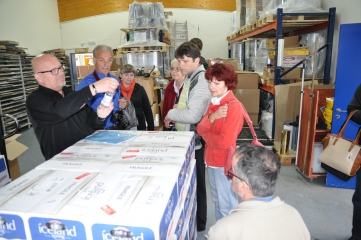 Disability is never beautiful. Therefore, the society is trying to ignore it, hide or draw enhanced attention organizing short-term actions. This emphasis is encouraging hostility and undermining tolerance.
So in July representatives of LSD and "SinaVita" went to the very north. By plane.
Riga airport is not large; there are wheelchairs for the convenience of passengers. To say the truth, they are connected by a chain and locked. In order to be able to start using it, a person with disability must get to a distant service point, apply and wait for help. In this country they are so afraid of theft that convenience becomes a nuisance and getting help creates a sense of helplessness.In other European airports wheelchairs are freely available immediately at the entrance door.
Disability does not preclude from believing in yourself and your strength, but support from people around you is needed. Words of encouragement for each of us help overcome difficulties and create interest in something new. However, the encouragement needs empathy and the ability to look at the world from another person's perspective, realizing what is important for that person.
Iceland, Land of Tolerance
There is the business world and the world of charity. Why do not we combine these ideas – create income and solve social problems? /M. Yunus/
Ilona Seņkova , the head of LSD says: "During the trip, we visited various companies which provide jobs for people with disabilities and help them to integrate into the labour market.
So, Örtækni workshop is producing and selling cables in different colours and sizes, computer accessories and parts, software and hardware, also goods, which are suitable for people with special needs. For example, the program for visually impaired, special keyboards, developing programmes for children, etc. Örtækni is running the cleaning department which provides services for apartments and offices.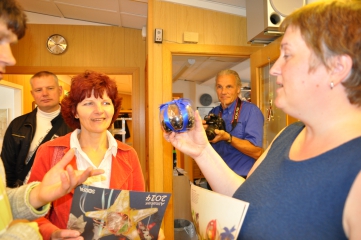 Workshop is employing people with disabilities, as well as is helping people with special needs by providing them services and selling a variety of devices which make their daily life easier. Örtækni is a company (owned by the Organization of Disabled in Iceland), with a total staff of around 40 people. I was struck by the diversity of products and the attitude of the management towards employees. "
Múlalundur workshop for people with reduced work capacity people are given opportunity to do some jobs and work flexible hours. Múlalundur is the largest and the oldest workshop for people with disabilities in Iceland; it was founded in 1959.Currently the company is employing about 40 people. The company specializes in manufacturing plastic and paper products for offices.
The goal ofAS styrktarfélag workshop is to create jobs for people with disability and reduced work capacity. They are paid monthly wages, sick leaves and holiday pays, contributions to the pension funds are made as well.
In 2001 the AS styrktarfélag and the Ministry of Social Affairs signed a delegation agreement, so the company receives subsidies from the state budget. Of course, the workshop also gets profit through charitable lotteries, producing greeting cards, selling its products.
In 1930 an ecovillage called Sólheimar was established, where roughly 100 people live and work together. The focus in the village is on the well-being of people and nature. It has a variety of workshops and training programs, such as growing organic vegetables, woodcarving, weaving, making candles and fine art, cosmetics production and other crafts.
At Ōrvi, Training Workshop and Vocational Rehabilitation centre Ōrvi people with disabilities are tested, trained and so prepared to the labour market, as well as are helped to find a job.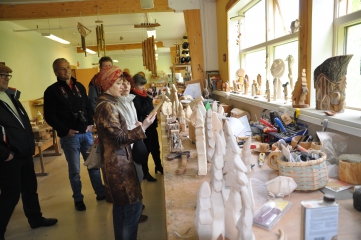 Testing helps to assess a person's ability to work, determines the level of knowledge and motivation. The Centre's objective is to create more opportunities for people with limited abilities to work in the private sector.They are taught packing, as well as producing various plastic products –inlays for chocolate boxes, lids for food containers and so on.. Training and rehabilitation programme is tailored to the individual needs of each learner; it lasts for 18 months. Ōrvi is financially supported by both the national and the local social services.
Be aware of your own values
Before the well is dry, we do not realize the value of water. /T. Fullers/
The population of Iceland is little more than 320 thousand .Compared to the worldwide it isn`t a lot. Considering the harsh climate and seismic activity – quite a lot. Visiting various companies and meeting people both in Reykjavik and rural villages,we repeatedly heard the phrase "It is important for people to feel comfortable here." We are not accustomed to hear such expressions. The skeptical question, "Who is it important for?" we got the same answer every time. "For our Government".
Ilona Senkova shared: "I was surprised when I heard during the discussion in Iceland that a disabled person must have sufficient means of subsistence, so that he would not feel poor. I can not even describe how I was feeling at that moment! I guess it was a shock. In my country nobody cares how I feel. No one cared how a person with disability can get her car to a place about 300 km away, so it could be adapted for manual control, and drive back home. No one asked if I need a special support (an elbow-rest) for my arms. They didn`t do it, although it was paid by the government…"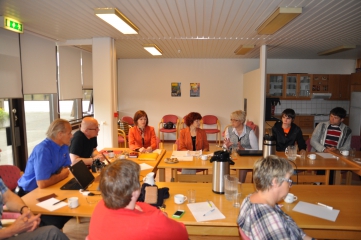 Rita Buceniece, the knitter in "SinaVita" concludes: "I can say that Iceland is a different world: a different nature, culture and the scale of values.
First a person in Iceland is highly respected. It does not matter if you have a good education, a high post or you are a member of technical staff or a disabled person. Everyone is given the opportunity to help themselves realize. People with disabilities are offered training and job-search assistance, thus they are afforded the opportunity to prove themselves at work. We should learn from the Icelanders altruism, mutual respect and marketing. Our students would benefit if they went to a school in Iceland or worked in an Icelandic company.
As "SinaVita" representative, I am more interested in the creative process of social enterprises. Wood in Iceland is valuable, so it is used. I was surprised seeing that wooden waste is transformed into a beautiful garden furniture, toys, and musical instruments. Old beeswax candles and the rests are transformed into beautiful candles. Almost every thing intended to be discarded is given a second chance to live: Pieces of old cloths are turned into a beautiful Advent wreath, plastic bottles are converted into gift packages, etc. They all are made by people with physical and mental disabilities. The staffs generate ideas, put them into practice and sell. I believe we must learn how to appraise our crafts and things we make, and then the world will appreciate them and buy.
Icelanders knows how to sell lava/they have even canned fresh air. Good job! It means they think differently than we do."
Will a person in this country become valuable after s/he is entered in the Red Data Book as Endangered species?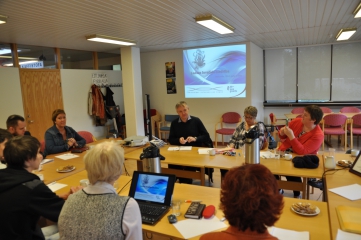 Work is Life
Job is the best way to enjoy life. /E. Kant/
People at – retirement age, the disabled, mothers who are raising young children, long-term unemployed. It is much more difficult for these people to find a job. They often can`t work eight hours a day because of their health condition or they have lost necessary skills.
Social enterprise is one of the most effective ways to solve social problems and reduce the unemployment rate. While in Europe and other parts of the world this notion has been used for at least 30 years, in Latvia, however, it is still a novelty.
We can say that the social enterprise is somewhere between charity and traditional business. Social entrepreneurship is a type of business whose priority is to solve significant social or environmental problems, ensuring the company's financial existence and sustainability.
Social entrepreneurship – to be or not?
The challenge is the essence and the driving force for all mankind. /J. Ulmeni/
During the period from 2003 to the economic crisis, culminating in 2009 – 2010 the number of people employed in social enterprises in Europe increased from 11 to 14.5 million people, which is 6.5 percent of the total number of employed. For many of them it became the key to the exit out of the hopelessness and the crisis. Almost a quarter of the companies in Europe are SE.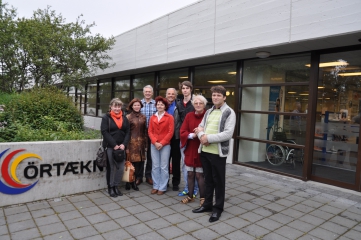 The Latvian Ministry of Welfare is currently developing a concept, which aims promoting social enterprises and creating a friendly environment for these companies. It is expected that in the near future a regulating framework for the activities of social enterprises will be established, in order to support these companies. What is social entrepreneurship in Latvia? A fashion thing, a temporary phenomenon or an opportunity? Does it have prospects in Latgale? We are inviting you to discussion on "Social Entrepreneurship in Latgale – is it possible or not?" on 12 September from 1 am to 4 am in the hotel "Lucia" (20 Kr. Barona Street Ludza). Members of associations, entrepreneurs, leaders of local municipalities and experts, academics, representatives of the Ministry of Welfare, mass media and all interested people are invited. Let`s see how much interest in this conversation the officials will show.
Anyway, let us encourage each other, going towards new things and realizing that it can be difficult. Let us allow ourselves to take the initiative!
"I loved the activities of the organization of Disabled in Iceland, for instance, they remind the deputies of their promises before the election and, if necessary, arranging and organizing the protests rather than whining and moaning at home," says Ilona Senkova.
Svetlana Rimša