Future business model or social entrepreneurship
Social entrepreneurship is an exciting and inspiring tendency of the 21st century, which at the moment is developing more and more in the world. Its essence is to stimulate positive social changes in a person's life. Here, in Ludza, employees of "SinaVita" and members of Ludza Society for the Disabled can confirm it. Participants of the training course "Establishment, work and management of a social enterprise" also came to this conclusion.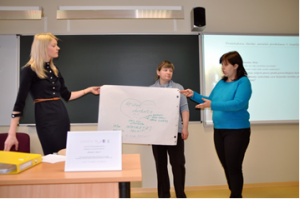 Who?
Training took place in Ludza within the framework of the project "Work is life" from January until April this year. Training was organized in day end evening classes so that also employed people have an opportunity to participate. In each group – 20 students from Ludza, Cibla, Rezekne and Karsava municipalities. Unfortunately, not all students came to the end of the training course and received certificates. For some of them topics were too difficult, others understood that they would to have to put effort into training and work hard, others apparently were hoping for some scholarship for the training course…

What about?

The goal of the training is to stimulate understanding of basic principles of work and management of social enterprises, encourage students to become self-employed.
In traditional understanding, entrepreneurship means offer, distribution and sale of products and services. Social entrepreneurship basically does the same, with the exception that it also contributes directly to society. Profit of a social enterprise is not divided among its owners, but is invested in settlement of socially important problems. It is essential that socially unprotected groups of society are often involved in the activity of a social enterprise – people with disabilities, young mothers, unemployed people at pre-retirement age etc.
Students found out about legal aspects for establishment of a social enterprise, learned how to work out a business plan, acquired basics for organization of trade and sale of production. Practical classes about financial management and seminars were organized as well.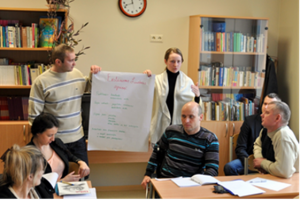 How?

Programme for the training course "Establishment, work and management of a social enterprise" was worked out and the classes were lectured by the specialists of "Latgales mācību centrs" Ltd. In Latgale region, such training was organized for the first time. In students'opinion, the programme included too much theory. Lecturers took into consideration students' wishes and adjusted curriculum – included more practical classes.
When students found out about the activity of "SinaVita" and other examples of social entrepreneurship, some of them expressed their wish to acquire machine knitting skills.

Why?

Why is it important to develop social entrepreneurship? In Latgale region, social problems are one of the most urgent – unemployment, lack of finance for purchase of food and payment of municipal services, small pensions etc. Every inhabitant of Latvia knows that the state cannot provide for all his/her needs. Therefore people have to start to think socially more responsible, which is one of the basic elements of social entrepreneurship.
Social entrepreneurship teaches to be responsible not only for oneself and his/her family, but also for society in which he/she lives.

What next?

Taking into consideration students' wishes and having evaluated possibilities, Ludza Society for the Disabled decided to organize within the framework of the project also a 20-hour individual training course in machine knitting for 10 people. Time: May – June 2014.
Apply for the machine knitting course via telephone +371 27804838 or e-mail adg@inbox.lv until 30 April 2014. Number of students – 10.

Training is organized within the framework of the project No. 2012.EEZ/PP/1/MEC/012 "Work is life", which is being realized by Ludza Society for the Disabled. Total budget of the project is 36,270 EUR.
Financial support of the project is realized by Iceland, Liechtenstein, Norway, government of Latvia; co-financed by Ludza Municipality.

Svetlana Rimsha,
manager of the project